Advanced Rapid Detox is a division of Pontiac General Hospital and operated by Dr. Julia M. Aharonov, a board-certified Anesthesiologist. Her mission is to provide the very best drug addiction recovery treatment and aftercare for people afflicted with opiate addiction. Now, you can finally enjoy a second chance at being free from opiate dependence in their intensive care facility with sedation assisted opiate detox performed by knowledgeable and experienced physicians.
Safe & Effective Opiate Detox
Patients are screened with utmost care to establish medical and psychological fitness and readiness for a safe detox. Those who need additional examinations, such as stress-echo tests, will be directed to do so prior to the procedure. This reassures patients of a safe, successful, and effective outcome. We are dedicated to our practice and loyal to our patients. Nowhere in the United States or Canada will you find a sedation opiate detox program safer and more effective than ours.
Unique, Individualized Addiction Treatment
The Advanced opiate detox treatment is unique since our board certified doctors have individualized and perfected the techniques to meet the specific needs of each patient. Our exceptional procedure also entails hydrating the body, replenishing vitamins, and correcting electrolyte deficiencies.
Our safe opioid detox has been so carefully developed because our primary goal is your safety and successful outcome.
Dr. Julia Aharonov Awarded & Recognized as Michigan's Top Doctor in Addiction Medicine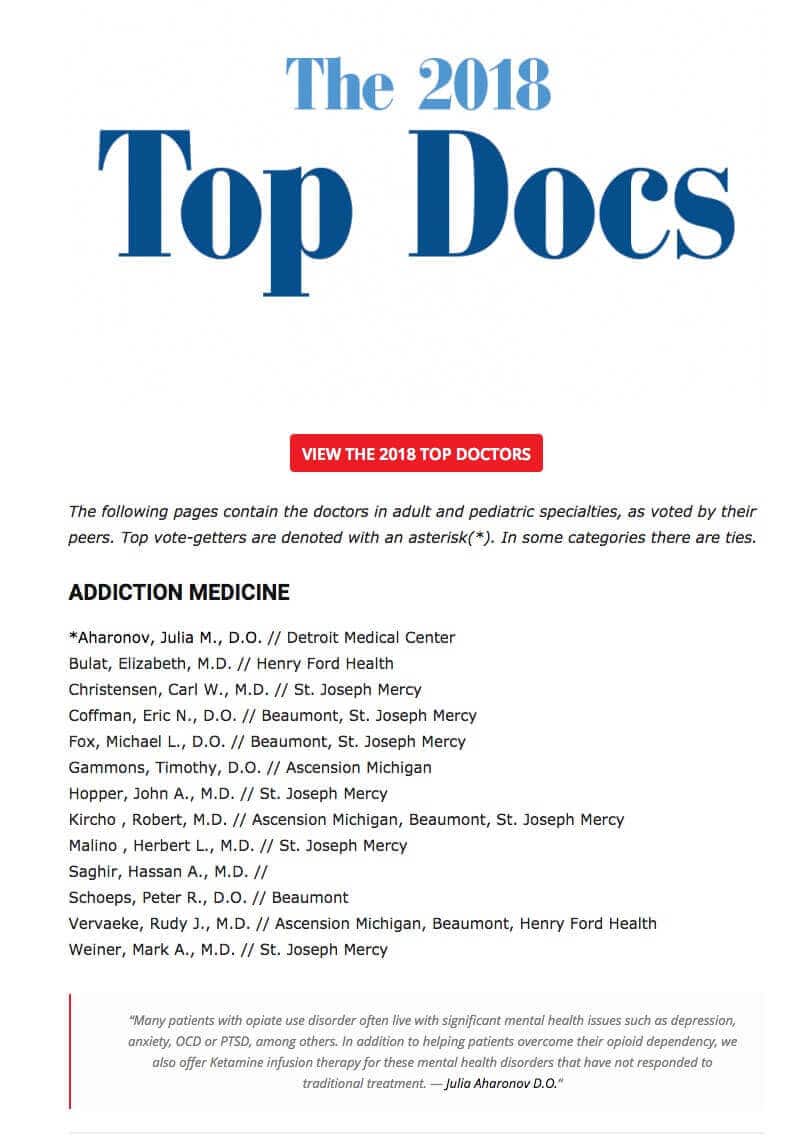 Now for some Good News!
The good news is that there is a safe way of escape and that's through our advanced rapid opiate detoxification procedure. We have helped countless people do exactly that. Our expert team of experienced medical professionals are available to give you all the help you need to get your life back on track. Now it's up to you. We're here to help or answer any questions that you might have.
Aftercare
Our Long-Term Detox related Aftercare through your treating physician is one of the advantages of choosing Advanced Rapid Detox. Our board certified doctors are available to answer any of your questions. Upon discharge our Vivitrol® coordinator will supply you with a list of providers in your area to obtain the injection every 28 days. Vivitrol® blocks all opiates to the brain's receptors. The Vivitrol® injections are a critical component to help ensure your sobriety. One of our patients recently said that Vivitrol® was like his "life insurance policy". We agree — It's that important.
We Applaud Your Courage. You can Do This!
If you are ready to get your life back and want to begin detoxing from opiates, there is no better time to start. Make the call now. We're here to help you. We have many past patients who are willing to share their experiences with our rapid opiate detox treatment. If you would like to speak with a past patient, please let us know. You're not alone. You can do this. Be sure to check out the opiate detox testimonials to read what other patients have to say. We're only a phone call away.
Take the First Positive Step in Breaking Your Opiate Dependency – Contact Us Now!
Are you TIRED of your addiction to pain pills, heroin, suboxone or opiates and just want your life back?
Ask if our Rapid Opiate Detox under Sedation procedure is right for You
---
Don't switch your addiction to Suboxone® or Methadone