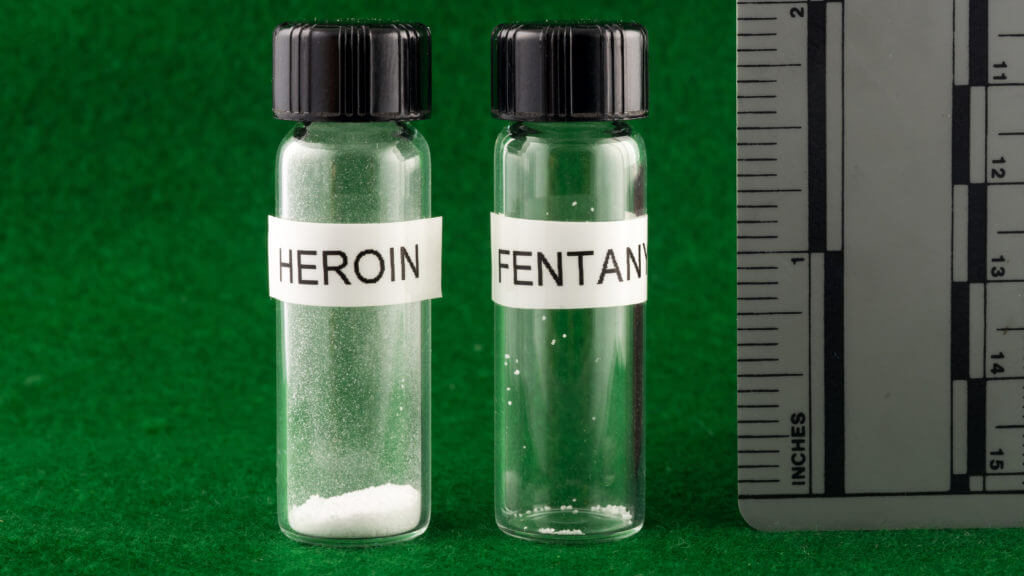 Pharmaceutical fentanyl is a synthetic opioid pain reliever, approved for treating severe pain, typically advanced cancer pain. As of 2017, fentanyl was the most widely used synthetic opioid in medicine. Fentanyl patches are on the World Health Organization's List of Essential Medicines, the most effective and safe medicines needed in a health system.[Source]
Fentanyl is also heroin's synthetic cousin and is extremely dangerous. In the above photo, 30mg of heroin is a lethal dose –– It only take 3mg of fentanyl to kill you! Fentanyl is usually mixed with heroin or cocaine to save the drug dealer money and to make their product have a stronger punch. Additionally, because the dealer's measuring equipment is not sensitive enough, too much fentanyl unfortunately can be added. Because the two drugs look identical, users will not know which one they're taking, many times, until it's too late. The same sized hit last time, might be the users last if cut with fentanyl.
Rapid Rise in Synthetic Opioid Overdose Deaths from Drugs like Fentanyl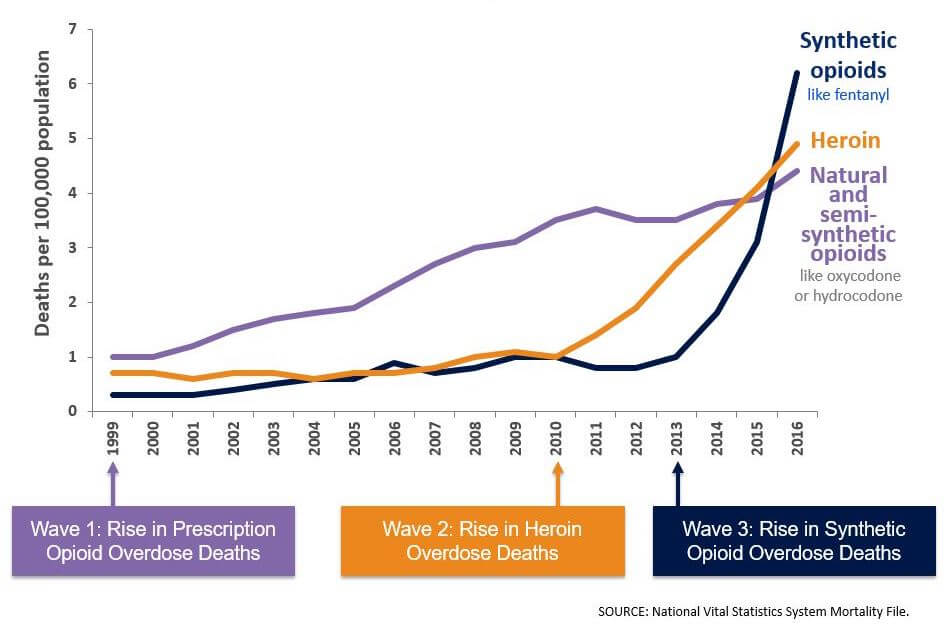 Fentanyl analogues may be hundreds of times more potent than street heroin, and tend to produce significantly more respiratory depression, making it much more dangerous than heroin to users. Fentanyl is used orally, smoked, snorted, or injected. Fentanyl is sometimes sold as heroin or oxycodone, often leading to overdoses. Many fentanyl overdoses are initially classified as heroin overdoses.[Source]
Get Help Detoxing From Fentanyl Before It's Too Late
We can help you break your deadly addiction to fentanyl if and when you are ready. Trying to quit fentanyl cold turkey is not recommended. Our Advanced Fentanyl Detox procedure is performed inside of our hospital by award-winning Board Certified Anesthesiologist, Dr. Julia Aharonov and her team of experienced medical professionals. You can be free from the grips of this insidious drug in 3 days! Read patient testimonials of others who have kicked the fentanyl addiction and have gotten their lives back. You can too!
Are you TIRED of your addiction to Fentanyl and just want your life back?
Ask Us if our Rapid Fentanyl Detox under Sedation procedure is right for You
---
Don't switch your addiction to Suboxone® or Methadone