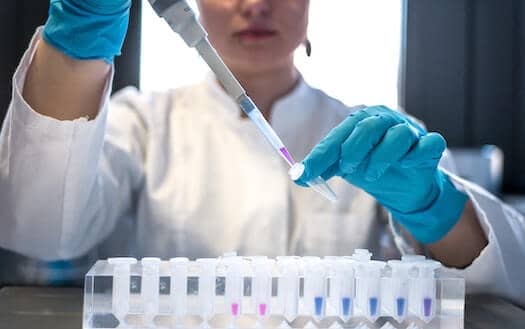 Could an Experimental Vaccine Help Curb the Opioid Epidemic?
New experimental vaccines could stop the worst effects of synthetic fentanyl and carfentanil—the two drugs that have been major drivers of the opioid epidemic in the U.S.—according to a new study published by ACS Chemical Biology in February 2022. The vaccines could be used in emergency situations to treat overdoses and as a therapy for those with substance abuse disorders.
In addition, the vaccines could protect military officers who are exposed to opioids as chemical weapons, and they may also help opioid-sniffing police dogs to train for the job. The vaccines are still in the early stages of testing, but the latest data brings hope that the approach will work to treat several opioid-related illnesses.
How do These Experimental Vaccines Work?
The vaccine is designed to produce antibodies to oxycodone—a commonly abused prescription opioid normally used to treat moderate to severe pain. If a vaccinated person were to relapse, the antibodies their body generated would attach to the drug and block it from reaching the brain. This means the person would not feel the typical euphoric high felt after taking opioids.
Researchers say this same blockage could also prevent overdose deaths. When oxycodone reaches the brain, it can cause "respiratory depression," which is a disorder that causes breathing to become slow and ineffective. The vaccine would ideally stop this process from happening. The vaccine does not interfere with other medications used to treat opioid use disorder because it is designed to specifically target oxycodone. Researchers are working on developing similar vaccines that target other opioids with unique chemical makeups, such as heroin and fentanyl as well.
What Does all this Research and Experimentation Mean?
While still in the early phase, this study suggests that the vaccine can be used together with standard therapies to prevent withdrawal and craving symptoms associated with opioid use. It has also been reported that a vaccine that lasts for several months and, when given in combination with any of the already existing medications, could help many more people beat their addiction while potentially protecting them from an overdose death if a patient relapses.
What's Next for the Experimental Trials?
The oxycodone vaccine will need to be tested in phase two and phase three trials to determine its efficacy. Because the chemical structure of different opioids varies by drug, different vaccines are needed for each opioid. The teams at Columbia and the University of Minnesota are working to develop similar vaccines against heroin and fentanyl.
Are There other Methods to Fight Opioid Addiction?
The professionals at Advanced Rapid Detox in Detroit, Michigan have perfected an advanced technique of three-day rapid opioid detox under sedation. This proven procedure safely removes all opiates from the body. Patients sleep through the withdrawal phase while being placed safely under sedation.
If your life has been affected by opioids, there is no longer any reason for you to suffer. Contact Advanced Rapid Detox to learn more about our advanced rapid opioid detoxification program. Contact us at (800) 603-1813 or online here.